Veliko Tarnovo City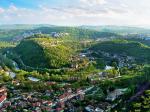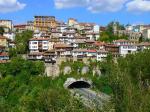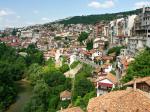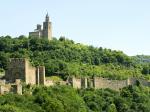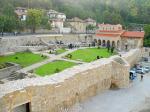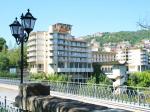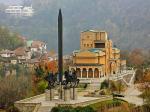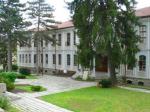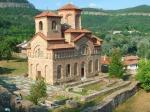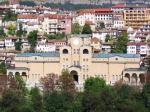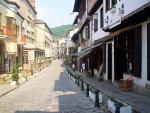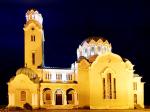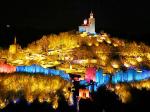 Veliko Turnovo is a town in Northern Bulgaria. Up until 1965 its name used to be Turnovo. The town is situated on the riverside of Yantra, as there are crossing the most important roads- Varna-Sofia (Varna - 228 km Sofia - 241 km) and the road, which connects Mala Asia with Central Europe (Ruse - 107 km, Kapitan Andreevo - 209 km). Through Veliko Turnovo passes the International corridor ą 9.
Area: 30.379 sq.km.
Population:68 783
Post/ZIP/ Code: 5000
Phone Code: 062
History
Veliko Turnovo is one of the most ancient cities in Bulgaria with over 5000 years of history. The first evidence of that date from the 3rd century B.C. and were found on Trapezitsa hill. According to historians, during the Middle ages Veliko Turnovo has been the new Constantinople, Jerusalem and Rome all together.
In 1185 the brothers Asen and Peter declared in "St. Demetrius" church the end of Byzantine slavery, which lasted 167 years and proclaimed Turnovo for a capital of the new Bulgarian Kingdom. The medieval town grew quickly and developed as the most impregnable fortress in Bulgaria in between 12th-14th century. It becomes the most significant political, economic, cultural and religious centre of Bulgaria.
Tsarevets Hill is surrounded on 3 sides by the Yantra river. During the Second Bulgarian Kingdom it was inhabited by the royal court, the boyars and the patriarch. It is surrounded by a bulwark and is built on natural cliffs. In the middle of Tsarevets rises the palace, which consisted of a solemn hall, "St. Petka" church, residential and commercial buildings, reservoirs and facilities for the guard.
After the liberation of Bulgaria and the Berlin agreement Veliko Turnovo becomes a temporary capital city - there is convened the Constituent Assembly in 1879, which is considered current until 1947 Tarnovo Constitution, the First Grand National Assembly, and many ordinary folk meetings.
Cultural Amenities
• National Military University" Vasil Levski "
• College of Agriculture , American College" Arcus ",
• The Veliko Turnovo university "St. Cyril and Methodius"
• Regional library "P.R. Slaveykov"
• Community centre ''Nadejda", community centre "P.R.Slaveykov"
• "Konstantin Kisimov" theatre
• Three art galleries: "Spectre", "Boris Denev", "Rafael Mihaylov"
• Museums: Regional Historical Museum, Archaeological museum, The "Vuzrajdane" Museum, Architectural and Museum Reserve Tsarevets hill, Sarafkina house, street bazaar crafts Samovodska street, street "Gurko", Inn of Hadji Nikoli, Stambolov Inn, Trapezitza hill , New history Museum
• The church of "St. Fourty Martyrs"- The temple is an architectural monument of culture.
• Architectural reserve of Arbanassi listed as a UNESCO World Heritage Site.
Social Life
Nowadays Veliko Tarnovo is developing very fast as the housing construction within the town marks a record. With the new plans for the construction of the Hemus Motorway (A2) Veliko Turnovo must be connected with Sofia and Ruse in 2015, as the town will be maintaining its status as the largest road transport center in northern Bulgaria, due to its geographical location in Northern Bulgaria and Fore and because of its proximity to the largest railway station in northern Bulgaria and the international airport in Gorna Oryakhovitsa.
Regular events in Veliko Turnovo:
• Veliko Turnovo Day- 22nd March
• International Folklore Festival
• The Independence Day 22nd September
• Folklore Festival "Balkan Folk"
• "Stage of Ages" Festival in August at Tsarevets hill with an open stage
Store chains:
• METRO Cash & Carry Bulgaria
5000 Veliko Turnovo
78 Bulgaria blvd.
• LIDL Bulgaria
5000 Veliko Turnovo
25 Narodni buditeli str.
• BILLA Bulgaria
5000 Veliko Turnovo
13A Georgi Izmirliev str.
1A Krakov sq.
• PRAKTIKER hypermarket
5000 Veliko Turnovo
17 Magistralna str.
• PRAKTIS hypermarket
5000 Veliko Turnovo
7 Krakov str.
• TECHNOPOLIS
5000 Veliko Turnovo
4 Magistralna str.
• TECHNOMARKET
5000 Veliko Turnovo
40 Magistralna str.
• Sale and service centre Nissan, Renault, Dacia
5000 Veliko Turnovo
2 Magistralna str.