Is the country house a good investment?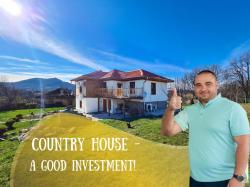 Revival of the Bulgarian village - this trend has been observed in recent years. More and more young and educated people choose to leave the big city and settle in the countryside. All of them are looking for peace, tranquility, easy access, a small yard to develop organic farming or raise pets. And in the village they see the ideal place to ensure a healthy life for them and their family.
Still others decide to protect their savings from inflation by buying rural properties, the prices of which are constantly rising.
It can be said that the initial interest in country houses was caused by foreigners - mainly Western European pensioners who want to live out their old age in a cheap and peaceful place in the nature and favorable climate in Bulgaria. They bought old or abandoned houses in mountainous areas, which they renovated. However, foreigners are far from the only ones interested in village life. The statistics of real estate agencies show that the main buyers of country houses are Bulgarians, although there are no shortage of cases of the purchase of such properties by foreigners of any age.

Advantages of the house in the village
- Rural life is significantly calmer than urban life – starting a new life in a rural home will help you secure the peace of your dreams, breaking away from the noise and stress of the big city;
- The investment is not too expensive - rural houses are usually sold at significantly lower prices than those of urban housing, and you do not need to invest a huge amount of money;
- You have a yard - you can make the yard a place to relax with a flower garden, turn it into a garden for growing fruits and vegetables or organize it as a place for children's games and entertainment;
- You will enjoy fresh air every day - in big cities the air quality is constantly deteriorating, and in the countryside you will be closer to nature, which will have a positive effect on your health;
- The country house is a great holiday property - if you decide not to live in the house all year round, you can always use it as a holiday home to visit on weekends and when you want to get away from your daily life in the city;
- You will have all the comforts of the 21st century - the villages in Bulgaria are well-developed and have the necessary amenities such as quality internet, transport accessibility, shops and low crime.

Purchase for resale
Buying an old house or plot of land in regulation in the villages near the big cities for the purpose of investment is an opportunity worth considering. Quite resourceful investors buy old houses, which they then renovate and sell at a decent profit.

In conclusion, we can say that one of the most important things is the location of the country house for it to be a good investment, bringing profit or just a place for a more peaceful life. Usually, in areas where there is a demand for houses, there are already many people buying and renovating them to sell. Remember that investment never guarantees a sure profit and only good research can protect you from costly mistakes.
In addition to all the advantages of rural properties themselves, the growth of this type of transactions has a positive effect on the economy. By catching up with sales in this section, the property market is striking a much better balance. Interest in country houses is expected to remain high. The tranquility, greenery and clean air turn the Bulgarian village into an oasis that will continue to attract buyers.

Thursday, Apr 13, 2023
» RENTALS
Commercial
€ 100
Location:
Veliko Tarnovo