Gorsko Novo Selo invites everyone to the "Trifon Zarezan" holiday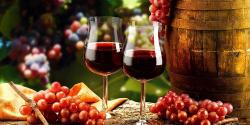 On February 14, according to an old Bulgarian tradition, we celebrate Trifon Zarezan - the day of wine, winegrowers, innkeepers and gardeners. On this day, from 10:00 a.m., all lovers of grapes, wine and appetizers, in the center of the village of Gorsko Novo selo can celebrate the Day of the Vintner - "On a glass - two ... heavy sparkling wine and a thick appetizer", provided by those present. It is one of the best holidays, a symbol of the new harvest and fertility. May this year be fruitful and generous for all winemakers! Be healthy and meet the holiday with joy and merriment and with reverence before the elixir of life.
Competitions are organized for the best homemade wine and meze. Those wishing to participate in it should provide wine in bottles - 0.500 ml. and 0.100 g and homemade appetizer in the library of the community center in Gorsko Novo selo until 13.02.2018 - 12:00.
Source:
www.borbabg.com
Tuesday, Feb 07, 2023
» RENTALS
Office Space
€ 60
Location:
Veliko Tarnovo