"Tsarevets" Fortress named tourist landmark of 2022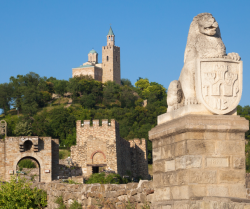 The historical fortress "Tsarevets" in Bulgaria's old capital, Veliko Tarnovo, was officially declared the tourist landmark of 2022.

It is also the only museum in Bulgaria that never closes its doors and welcomes tourists from all over the world 365 days a year.

***

The medieval fortress is located in the old part of Veliko Tarnovo. It used to be the primary fortress of the old capital of the Second Bulgarian Empire (1185 - 1393). Situated on the Tsarevets hill, it had three entrances, two battle towers, castle church, all surrounded by stone wall.

First constructed on the site of an earlier Byzantine fort, by the late 12th century Tsarevets had become the headquarters of the Bulgarian forces, that overthrew Byzantine rule in the region.

For the next two centuries, Tsarevets housed the royal palaces and administration of the new regime.

By the late 14th century, the continued rise of the Ottoman Empire put increasing pressure on the Bulgarian forces and, along with the region as a whole.

In 1393, Veliko Tarnovo was conquered by the Ottomans and the fortress was burned down.

For much of the medieval period, Tsarevets continued to flourish as a centre of religion, trade and administration.

In the 20th century, significant restoration projects were undertaken at Tsarevets Fortress, including the restoration of the Patriarch's Palace and Baldwin's Tower.

In the recent days, the fortress is among the most visited historical sites in Bulgaria.
Source:
www.bnt.bg
Tuesday, Jan 03, 2023
» RENTALS
Shop / Retail
€ 460
Location:
Veliko Tarnovo