5 Reasons Why Buying Your Own House is the Best Gift You Can Give Yourself This Christmas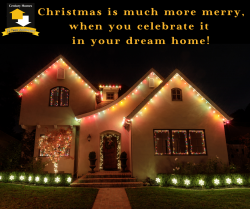 So you've managed to tick off everyone on your gift list, making sure everyone friendly this year gets to receive something. You've even had the time to write greeting cards for those who have been naughty! It seems you're all set up, and everyone is taken care of, except for one—you left yourself out!

In this season of giving, it's imperative that you also take care of yourself, especially after considering the hardships you and your family must have gone through due to 2022 rough, topsy turvy course. That said, you deserve an all-out gift that speaks, "best gift, ever"—yes, we're telling you to buy yourself a new house!

Allow us to explain 5 reasons why a new house is the best gift you can give yourself this Christmas.

1. You deserve it!

It's fairly obvious. You've made it through the year despite a series of challenges and hardships in one year. Making it out of 2020 is something everyone should cheer about, and buying a new house for yourself is taking the celebration on a whole new level.

2. There's no better gift.

They say that a home is a sacred place where you can relax, be free, and just be yourself. Giving yourself a haven where you can feel safe and cozy is way better than buying yourself a pair of socks or a new necktie. Of course, there's nothing wrong with those little trinkets, but a house is simply a cut above the rest.

3. A gift to last for generations.

Think of this, how long would a regular gift last? A pair of socks, a couple of months, maybe? Kitchenware, five years, perhaps? A box of your favorite snacks probably wouldn't last a couple of days. But a house—especially a well-built one—it's enough to last a lifetime, and possibly more.

A house can be an heirloom you can pass on to your kids, and their kids, and so on. It's a big-time investment, but hey, if your children's children get to enjoy the gift you bought for yourself a few decades ago, then it is a gift worth giving yourself.

4. A gift that has a value that keeps climbing.

Although the property market trend is slightly on a downhill slope, it's safe to say that it will eventually curve upwards after the pandemic.

That said, buying your house this holiday season is very strategic, considering the projection on the world's recovery both physically and economically from the virus. Some call it the surge after scourge, and those who take risks now can reap the benefits two- or three-folds soon.

5. It's worth every penny.

You might be thinking that buying a house as a gift is too much, but in reality, it's far from that. Every penny you spend on buying or building a new place is money well-spent. You're giving the best gift money can buy, including the intangibles like having a safe home for your family to make more beautiful memories.

It's a costly investment, for sure. But if you'll look at how much this gift will bring you and your family, we're sure you'll agree that it's worth it and so much more.
Friday, Nov 11, 2022
» RENTALS
Office Space
€ 75
Location:
Veliko Tarnovo