Why You Need to Buy a House Before a Car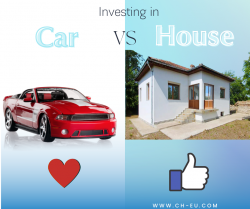 Once you start working and saving, one of the biggest decisions you can make is what will you invest in first: your first home or a car? Investing in both is a good idea but generally not at the same time since they are not inexpensive.

Real estate appreciates, cars depreciate

Whether you buy a house or a condo, one thing is guaranteed when you invest in real estate: its value will increase over time. This means, you can buy a cheap real estate now and within a few years, you can sell it at a higher price than what you shelled out. Not only will you have made a profit but you will have gotten back the money you used to invest in it.
Profit over time and price appreciation for real estate still depends on the market you invested in but since real estate is always in demand, their value only increases.
Appreciation is not possible when you buy a car, no matter what brand you buy. Since the moment you leave the car dealer's lot, the value of the car already depreciates. Over time, the car price will continue to lower since new cars are released into the market and older models are sold at a cheaper value.

Length of loan payment

Cars have shorter loan payment terms compared to real estate with it generally ranging from two years up to seven years. Extension after that is not possible although this still depends on where you will get your car loan.
On the other hand, when you get a loan to buy your own home, the loan terms can reach up to 30 years. However, it's better if you can pay for your house in a shorter span of time since it will free you to invest in other real estate properties to increase your investment portfolio.

Profit

When you buy real estate, you have the opportunity to make money from properties by renting it. It's passive income that increases your monthly cash flow and secures your financial standing. Additionally, you can even use the profit you earn from it to pay for your mortgage.
Passive income when you buy a car is not possible. If you want to profit from a car, one of the possible options is by using it to drive people around. However, this means you have to spend time and effort to do so unlike in real estate where you just find a renter and profits come in monthly.

Choose the right home for you

When you are ready to invest in a home, make sure you do thorough research to find the right property for you. Additionally, whether you buy a house or a condo, consider the factors above so you're guaranteeing that you're investing wisely.
Wednesday, Jun 15, 2022
» RENTALS
Commercial
€ 510
Location:
Veliko Tarnovo