Foreign tourists at Veliko Turnovo's museums up by almost 50% this summer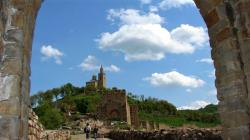 In July the number of foreign tourists visiting the Regional Museum of History in Veliko Turnovo has gone up by 47.31%.

The highest number of tourists coming to Veliko Turnovo this summer are from France, Russia, Germany and Poland. And despite the coronavirus pandemic eating and drinking establishments and hotels here are full. Almost 20,000 tourists visited the medieval fortress Tsarevets, 6,000 of them holidaymakers from abroad.

Tourists love to take strolls along the picturesque Gurko street, which commands a breathtaking view of Yantra river. The ethnographic complex Samovodska Charshiya, with its craft workshops is bustling too, with tourists stopping to watch master craftsmen demonstrating their ancient craft.
Another much-frequented spot in the city is the medieval 40 Holy Martyrs church, built to honour the victory of Tsar Ivan Asen II against despot Theodore Komnenos of Epirus in 1230.

In high season cultural life in Veliko Turnovo is at its height, with exhibitions, concerts, premieres, and all kinds of open-air events.
The city is currently hosting an international puppet theatre festival – "Summer, puppets and friends" 2021 – with the participation of actors from Estonia, Russia and Bulgaria, presenting their shows on the Art Summer stage in Asenevtsi park.

Vesselin Vassilev, founder of the festival commented for the BNR's Hristo Botev programme:

"The children coming to our festival really enjoy the puppet shows which we have been staging on weekends since the beginning of June, and will continue to present until the end of August. The shows are a selection from the repertoire of many state puppet theatres, independent theatre companies, as well as theatres from other countries, a colourful array of different titles."

The most spectacular attraction in Bulgaria's old capital is "Sound and Light", the audio-visual show created by a Bulgarian-Czech team way back in 1985. This year the show can be watched from Tsar Asen square in the city on 21 and 28 August free of charge.
Source:
bnr.bg
Thursday, Sep 16, 2021
» RENTALS
Shop / Retail
€ 570
Location:
Veliko Tarnovo