How to Decorate a Room in the Farmhouse Style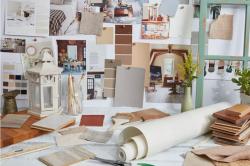 Farmhouse style decorating eschews modern sensibilities; it goes back to a simpler time. That said, farmhouse style is surprisingly savvy. To keep a farmhouse from looking too "country kitsch" there needs to be a balance of old and new. It should be clean, stylish and warmhearted. And most importantly it needs to be in tune with nature—not full of dried flowers and rooster paraphernalia. Here are some tips and ideas for decorating in farmhouse style.
What Is Farmhouse Style?

Farmhouse decorating is a style that is warm, cozy, relaxing, and full of charm and character while being organized around a central notion of practicality.
Practicality Rules

Originally, farmhouses were decorated with whatever was handy and practical. These days more thought tends to go into decorating in farmhouse style, but practicality is still an important factor. Nothing should be too delicate or precious. Instead, items should be hardy while still maintaining some sophistication and style. Also, a home decorated in this style should consist of hand-me-downs and flea market finds combined with newer pieces. For instance, an old harvest table and Shaker cabinets combine beautifully with stainless steel appliances and modern light fixtures in a farmhouse kitchen.

Farmhouses should look like they've evolved over time: Matchy-matchy is a no-no. Your furniture should not look like it could have all been bought at the same store. That's not to say that you can't buy a few pieces at a big box store. For instance, an Ikea Ektorp sofa can fit the look perfectly—just don't buy all the matching pieces. Pair it with some vintage chairs you've had reupholstered. Pieces should come from all over the place. Styles and materials can be all mixed up; that's part of the charm.

Farmhouse style shouldn't look too calculated either. For instance, craft show items and reproduction nostalgia designed to look "country" can be fun if it's just one or two items but put too many of them in a room and it will instantly look corny. Instead, check out flea markets and antique shows for items with real nostalgic value. Find an old bar cart to display some books or accessories. An antique armoire makes a great coat closet or pantry for your kitchen. Vintage apple-picking ladders are great for hanging quilts or tea towels. Add some real vintage pieces and you'll create instant character.

Take your time: Perhaps the most important thing to remember when decorating in farmhouse style is 'don't rush.' Charm and character can't be bought in a day. Don't buy just for the sake of buying, but instead peruse, meander, and collect. Decorate with things that have meaning, whether they're brand new or decades old.
Farmhouse Decorating Ideas

Here are some elements of décor and decorating ideas that will help you achieve a great farmhouse style:

Barn board: Using reclaimed barn board is a great way to add some history and country character to a home. It can be used on floors, walls, like furniture, as shelving—the list goes on.
Exposed wood beams: Like barn board, exposed wood beams keep an element of nature in your home and add some great architectural detail. If you've got 'em consider yourself lucky, and if you don't consider installing some.
Butcher block: Butcher block counters are great in farmhouse kitchens because they keep the look relaxed. They have a great rustic quality and will stay in good shape as long as you treat them regularly. If a kitchen full of butcher block doesn't feel practical for your home, consider just the kitchen island.
Apron sinks: A no-brainer for country kitchens, apron sinks practically scream farmhouse. Mix them with some shaker-style cabinets and you're guaranteed a farmhouse look.
Vintage furniture: You won't necessarily want to fill your entire house with vintage furniture, but you should definitely have some. Pair your new sofa with vintage side chairs and tables; a vintage chest looks great when paired with a new bed; vintage lamps that have been rewired lend character to rooms of all kinds—the point is to mix and match and bring some history into your home.
Slipcovers: Casual and practical, slipcovers can help lend a relaxed and soft feeling to a room. They're not necessarily cheaper than reupholstering pieces, but the advantage is that you can take them off and wash them whenever you need. You can also put slipcovers on wood dining chairs to create a soft new look.
Wicker and rattan: A little of these materials can go a long way. Some wicker baskets or a rattan chair connect with the outdoors and helps create a country feel. Think about including a piece or two in your space.
Weathered finishes: Rough wood and peeling paint can do wonders in creating a farmhouse look. That's not to say things should be completely dilapidated, but you don't want things to look too shiny and new.

The Question of Kitsch

It's very easy for country styles to look kitschy. Sunflower paintings, wallpaper covered in fruit, barnyard animals as a motif—these are all things that can make a country-style home look corny. It's always important to decorate with what you love, but know that these things will take you away from farmhouse style and take you into country kitsch.
Source:
www.thespruce.com
Wednesday, Jan 27, 2021
» RENTALS
Shop / Retail
€ 220
Location:
Veliko Tarnovo