On foot or by bike in the mountains – adventure is back in fashion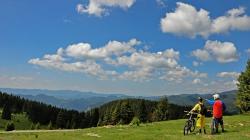 Adventurous excursions are the new face of Bulgarian tourism and a way out of the dead end that Covid-19 has driven it into.

It is already clear that for quite a long time tourists will prefer to go on holiday in secluded places and travel with family or close friends in the name of safety. But how can Bulgarian hosts raise the level of their hotels in resorts on the seaside and mountains so that they are preferred by travellers? The potential answer is – by becoming more creative and offering a memorable experience.
Considering the weather forecast and the advice of the locals, a holiday in one of the Bulgarian mountains can leave unforgettable memories.The beautiful landscape offers numerous possibilities for hikers, bikers, horse riders, motorcycle lovers, and also rock climbers, mountaineers, speleologists. The network of national and natural parks in conjunction with the surrounding landmarks also allows for photo safaris. Moreover, why not to head on a walk on one of the numerous marked pathways.

One thing is certain – adventure tourism is not for everyone. Some of its varieties require years of preparation, special knowledge, excellent physical condition and uncompromising quality of the equipment which is in no way cheap.
One of the widely practiced forms of adventure tourism is mountain biking. The equipment required for this sport is widely available – Bulgaria is one of the biggest bike manufacturers in Europe. The so-called mountain bike is very popular in Bulgaria not only due to the richness of the landscapes on these lands and mountains, but also owing to the magnificent conditions for riding a bicycle of this type. The Pamporovo and Borovets resorts have displayed forethought by answering to the changing demands and attitudes of the tourists. The bicycle parks that they have created in their territories are already well-known among tourists. And since the recreations and sport places offer a high-quality service with excellent reviews from around the world, numerous sports events and competitions have been organized in Bulgaria for years now.
Not so long ago, the bicycle park in Pamporovo became a host for one of the most long-awaited biking events in Bulgaria – "Pamporovo bike fest 2020", in which more than 120 foreign and local competitors took part. The event is part of the calendar of the Union Cycliste Internationale (UCI) and brings points for the world rank list, while its finals were for the first time broadcasted live on the internet.

Other useful information for the biking enthusiasts is that from the 16th of July, with the ski-lifts beginning to work, the official start of the biking season in the bicycle park Pamporovo has taken place. This park is the biggest specialized area for mountain biking in Bulgaria and the region. The descending trace under the Snezhanka peak is 2km long and one of the most scenic in the country.

Source:
bnr.bg
Friday, Aug 07, 2020
» RENTALS
Shop / Retail
€ 180
Location:
Veliko Tarnovo