Aquae Calidae -a modern amusement park with roots in the historical heritage of Burgas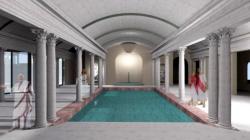 A playroom "like a huge Lego set" where kids will be able build different kinds of Roman fortresses. They will be able to put on clothes from times long past, to shoot a bow and arrow, to get to know different ancient techniques of embroidery, cooking and leather wear making. All this will soon be possible at the Aquae Calidae tourist complex, BNR-Burgas reports.

The site is unique and attracts a growing number of visitors. The location near Burgas is incredible because it is the focus of thousands of years of history. The archaeological finds at Aquae Calidae include the fortress walls of the ancient town of Thermopolis, the Ist century Roman baths with hot and cold pool, the various medieval rooms. Modern facilities have been built to make them easy of access to tourists.


There is a public call for tenders for the construction of the new centre which is to develop the facility as an interesting tourist destination, says Radosveta Stewart, head of the Tourism directorate at Burgas municipality.

The aim is to socialize the archaeological site, to tell the story of Aquae Calidae in a way that will intrigue. This is a project that enables us to combine archaeology with something new and different, something that is not to be found in Burgas municipality or anywhere else on the Black Sea coastline.
Aquae Calidae will be something unique for one more reason, and something people in Burgas have wanted for a long time will actually happen – they will once again be able to avail themselves of the healing properties of the mineral water here, Radosveta Stewart says.

The project for an exposition and demonstrations centre "The mineral waters of Aquae Calidae" is worth 3 million Leva and is to be implemented within 14 months. It is actually part of a bigger project "The power of water" under the Operational Programme "Regions in growth" 2014-2020. Under this project Burgas municipality is planning to create a new travel route presenting Burgas as an intriguing destination.
Besides Aquae Calidae with the new museum and replica of a Roman bath, three other sites connected with water have been included. An ethnographic complex is to be built at Chengene Skele, the pieron St. Anastasia Island is to be enlarged, and the façade of the St. Cyril and Methodius church in Burgas renovated.
Source:
bnr.bg
Wednesday, Feb 05, 2020
» RENTALS
Apartment
€ 165
Location:
Veliko Tarnovo