Wildlife Eco park welcomes visitors in Dobroudzha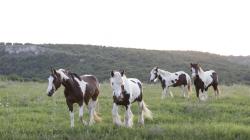 Deer, roes, Cameroon goats, boar and peacocks enjoy life out in the open in the new Eco park called Geranea. The facility with rolling green hills overlooking the Black Sea is open to visitors who want to see animals in their natural environment.

The name of the park – Geranea – is derived from the Latin name of a plant, geranium. The park covers an area of 700 hectares of woodland between the Dobroudzha villages of Lyahovo, Obrochishte and Tsurkva and is only 5 kilometres from the Black Sea resort of Albena.
Two years ago concessioner Rehzdan Nizam took over what was once a hunting farm with the idea of making it home to different species of wild animals. The first thing he did was to prohibit hunting, select animals from other hunting farms and separate the wild boar so they do not disturb the other animals. Today there are 170 fallow deer, 250 mouflon, 50 deer, 50 Cameroon goats, 300 boar and many other animals at the park. Visitors are able to take hikes to watch the animals but also use watch towers.
"People walk through woodland full of wild animals and they can see them all the time," says Rehzdan Nizam. "Some of the animals are socialized so they don't mind the noise so much, there are others, especially those with young, which are timid and are more difficult to see."

The hikes take place with the help of professional guides, a difficult but challenging trek. Visitors can take a break and enjoy the scenery from benches and gazebos, feel the breeze and the scent of herbs, listen to the rustling of the leaves and catch a glimpse of the animals in their natural environment.

Source:
bnr.bg
Tuesday, Aug 13, 2019
» RENTALS
Apartment
€ 205
Location:
Veliko Tarnovo