14th edition of the traditional Mindya Rock Fest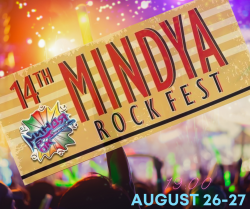 The annual Mindya Rock Fest will take place on August 26 and 27. The groups from Veliko Tarnovo Smokey Mountain River Band, Restart, Half Time with the special participation of Nora Karaivanova, Blues Traffic and Sakis Dovolis Trio will perform on the stage in the center of the village of Mindya on the first day. On Saturday, August 27, Hinterlands, The Drivers, Magistri, Bobo, Tosho and Tabakov will perform. Vasko Krupkata and Poduene Blues Band will close the festival. The fest will be with the special participation of DJ Stivie G.
The concerts start at 7:00 p.m. On Friday, the local community center will open the festival. There will also be a speech by the mayor of the village.
Entrance to Mindya Rock Fest is free.


Thursday, Aug 25, 2022
» RENTALS
Studio
€ 130
Location:
Veliko Tarnovo