Arbanassi Summer Music Festival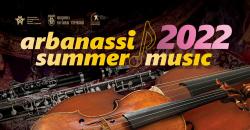 The 12th edition of the Arbanassi Summer Music Festival for classical chamber music has been started on July 13 in the unique medieval churches of Arbanassi, a village near Veliko Tarnovo. The programme includes four festival evenings (July 13-19) in the St Michael and Gabriel and St George medieval churches which are described as having holy acoustics. Eight of the best musicians in Europe and world-famous Bulgarians will present the beauty of classical chamber music to the Veliko Tarnovo audience.

Deputy mayor of Veliko Tarnovo Neiko Genchev commented during the presentation of the festival's programme that the event is central to the cultural calendar of Veliko Tarnovo and it has a great role in the common efforts to establish the old capital city as a European cultural destination.

Municipality representative and head of the Culture, Tourism and International Activities directory Nelina Tsarova recalled that the festival is among the top 10 best festivals in Europe.

Musicians from Belgium, Germany, Liechtenstein, Latvia and Bulgaria are going to perform as a part of the international formation. These are Teodora Atanasova - cello, Roberta Verna and Sara Domjanic - violin, Janeks Niklavics - viola, Dimitri Mestdag - oboe/English horn, Julita Fasseva - double bass, Benjamin Dieltjens - clarinet and soprano Lore Binon. The musicians are leading soloists of the Royal Flemish Philharmonic and other world orchestras.

The first two festival evenings will be held in the medieval church St Michael and Gabriel medieval church. The opening concert started on July 13 and it is called A Klezmer Night. The concert presented the audience with Jewish folklore music.

On July 16, the international formation will perform pieces by Sergei Prokofiev and Johannes Brahms.

On July 18-19, the festival's stage will be the St George medieval church, where will be performed pieces by Alexander Glazunov and Dmitri Shostakovich.

The Arbanassi Summer Music Festival was create di 2010 at the initiative of Dimitri Mestdag and Julita Fasseva, who was born in Veliko Tarnovo. The event attracts music lovers all over Europe.
Source:
www.bta.bg
Thursday, Jul 14, 2022
» RENTALS
Shop / Retail
€ 180
Location:
Veliko Tarnovo