St. Nicholas Day is one of the most beloved Christian winter holidays in Bulgaria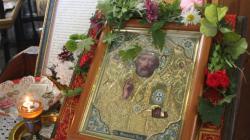 In the calendar of the Bulgarians, December 6, also known as Nikulden, is a particularly solemn holiday in honor of St. Nicholas of Myra. He was born in the 3-rd century in Patara in Asia Minor. He led a righteous monastic life, helped the poor and suffering, strengthened the weak with the word of truth and faith. In the eyes of believers, he was "a rule of faith and a model of meekness, a teacher of abstinence" and so he became Bishop of Myra. He died in 342 and his relics were transferred to Italy and are still kept there in the city of Bari.

In Bulgaria, St. Nicholas has been one of the most revered Christian saints since ancient times and he is the patron saint of travelers, sailors and fishermen. In folklore legends, the saint sails on a golden ship and is master of storms and the sea. Legend has it that St. Nicholas once saved a boat from sinking by plugging the hole with a carp.
For fishermen, this day marks the end of autumn fishing and is traditionally celebrated with a rich table full of fish dishes.
According to some superstitious beliefs, when making boats builders should put an icon of St. Nikolas to protect the sailors from storms and winds. When a strong storm arose, the wives of the fishermen at sea went ashore with the icon of St. Nicholas and immersed it up to three times in the water, asking for their men to return alive and well.
The saint is also believed to have saved the needy by leaving them a purse of coins, just as he helped a poor father who had no money to marry his daughters properly. That is why bankers also accept St. Nicholas Day as their holiday.

The Bulgarian Orthodox Church celebrates the memory of St. Nicholas with a festive holy liturgy and consecration of fish dishes for the health and blessing of the faithful.

According to modern Bulgarian traditions, on St. Nicholas Day a festive evening table is arranged, as fish dishes must be present. Often this is carp stuffed with rice, walnuts and onions.
People named Nikola, Nikolina, Nikolay, Nina, etc., also celebrate on this day. St. Nicholas is also the patron saint of the city of Burgas.
Source:
bnr.bg
Monday, Dec 06, 2021
» RENTALS
Apartment
€ 100
Location:
Veliko Tarnovo