Donkey stories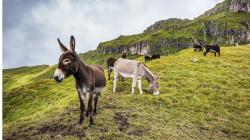 Dr. Abdul Raziq: Bulgaria is one of the most important habitats of the donkey and people still have great respect for this important creature
Sometimes it is quiet and obedient and sometimes it is stubborn. The donkey has been a staunch helper to man for at least 5,000 years, or even more. Modern farmers treat this hard-working animal good. However, the number of this animal species has decreased on a global scale, which is quite natural, because farming activities have changed over the past decades and not that many young people are willing to engage in farming and stockbreeding. The number of donkeys in Bulgaria has decreased as well. However, there are organizations that deal with these problems. Seven years ago, a shelter for old donkeys opened in the village of Banichan near the town of Gotse Delchev, Southwestern Bulgaria. The sanctuary continues to operate and has even become a tourist attraction.

"No to donkey behavior in people! Respect the human in donkeys!" is the motto of the Bio Rally, also known as Magariada or Donkey Rally, which has been held in the town of Gurkovo (Stara Zagora district) since 1971.
Three Bulgarian students, who wanted to make their hometown popular, came up with the idea to organize a donkey competition. This is the first donkey competition in the world. It consists of several disciplines, including a race with decorated donkey carts pulled by donkeys, donkey race, donkey football, etc.

In Bulgaria, the donkey has always been among the domestic animals used mainly for carrying loads. It is considered to be the "horse of the poor people". Once, it was believed that the prestige of the wealthy people would suffer if they rode a donkey. Donkeys are more neglected than horses, which is proved by some traditional customs. For instance, if the bride is not a virgin on the first wedding night, her father in law would find a donkey and make her ride the animal without a saddle, facing the donkey's tail. Then, the father in law would return the embarrassed bride to her father.
The mockery related to some features of the donkey's character are often present in our everyday language. "You are stubborn like a donkey" is a very common phrase in Bulgaria. Once, people even believed that they should not have a haircut in March, as this was the month when donkeys had their hair cut.

Bulgarians often preferred the donkey, because it was patient, enduring, ate less, worked hard, was able to carry big load and never gave up, even on rough terrains, where other animals would not be able to do their job. In some folk tales, the donkey is wiser than the proud horse.
The idea to set up a World Donkey Day emerged in 2018. World Donkey Day is the brainchild of Dr. Raziq Kakar, Ph.D. in Animal Science from Northeastern Balochistan – Pakistan. His main focus and research area is camel. Here is what Dr. Raziq wrote for Radio Bulgaria:

"While I was walking and working with the camels for my doctoral research in Northeastern Belochistan in Pakistan, I realized that the donkey is an even more important player both as working animal and resilient to the drought and feed/water scarcity. As soon as I completed my Ph.D. task, I took my luggage and started my donkey love exploration. I wrote some general articles, found different types and communities of donkey keepers. Besides the crucial and pivotal role of donkey, very little attention has been given to this poor creature. I communicated with many people at the global level who had an interest in donkeys. I found a kind soul "Peta Jones" from South Africa who is in real love with Donkey. I asked her to support my cause/suggestion for world donkey day. She supported me and suggested May 8 as World Donkey Day, because it is the week after the World Labor Day and the donkey is the most important labor in the world, is it not?"
When we announced World Donkey Day, I found that the people have a very deep interest in the donkey, Dr. Raziq Kakar went on to say and added:

"I initiated a Fecebook page on World Donkey Day and many people liked it and joined the page in a short duration of time. The interest of people is once again rising about the poor donkey and this fact makes me very happy. Your country Bulgaria is one of the most important habitats of the donkey and people still have great respect for this important creature".

Happy World Donkey Day!
Source:
bnr.bg
Thursday, Aug 05, 2021
» RENTALS
Apartment
€ 180
Location:
Veliko Tarnovo