Bulgaria as a "summer destination" for Bulgarian children born abroad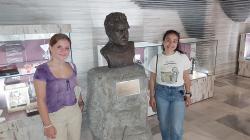 For many Bulgarian children born abroad, Bulgaria has become a "summer destination" for years. They visit their parents' homeland mainly in the summer, during vacations.

Violeta Egan and Nicole Gancheva Contreras are two such youngsters. They are from New York. They know each other from the school for Bulgarian folk dances at the local Sunday school "Hristo Botev". During their stay in Bulgaria, the two children visited various landmarks in Sofia and in the country and they were also guests of the Bulgarian National Radio where they toured the recording studio complexes and took pictures as radio hosts.
Violeta Egan is 16 years old and comes to Bulgaria every summer alone or with her family. She stays in Plovdiv where her mother was born. This year she travelled alone, but claims that the long overseas flight to Bulgaria does not bother her. And which is the place in her mother's homeland that she loves the most.
"I like Plovdiv the most because my mother was born there. My grandparents live in Plovdiv", says Violeta, who also has a favourite place in the "city of the seven hills, the old town. "It is very beautiful there and it reveals wonderful views. For the first time I visited the Bulgarian capital Sofia now. I visited the parliament building, the St. Alexander Nevsky Cathedral, the Bulgarian National Radio, where I was most impressed by the recording studios. When I'm in Bulgaria I have the opportunity to go out alone, to walk, everything is nearby. In America where I live, the distances are huge and without a car it is almost impossible to move around".

Violeta's friend - Nicole Gancheva Contreras – has already graduated from high school and will be a university student in Boston in the autumn. She was last in Bulgaria three years ago. Unfortunately, she failed to make friends in her mother's homeland until now, but she is expecting a friend from America in Sofia.
"I have no friends here. Usually, when I'm in Bulgaria, I see friends from the States who, like me, came here for the summer. Now I expect a friend from America to arrive in a few days. She is of Irish descent. She was very enthusiastic when I invited her to come. She's never been here. That's why I will show her Sofia, we will go to Plovdiv together and we will see other interesting places. I think she will like it because I have told her many times about Bulgaria. She knows that I also study in a Bulgarian school, that I go to folk dances and I believe that she will be impressed."

Both Nicole and Violeta, after their return to the United States, will start preparing for the new school year. Nicole will start her studied in a Boston university where she will study engineering, and Violeta - from September 1 continues with the school studies as every Sunday she will dedicate several hours to advancing her knowledge of Bulgarian language and culture at the Hristo Botev Sunday School in New York. We wish them success!
Source:
bnr.bg
Thursday, Aug 05, 2021
» RENTALS
Office Space
€ 1 300
Location:
Veliko Tarnovo