5 Benefits of Using Virtual Tour to Sell Your Home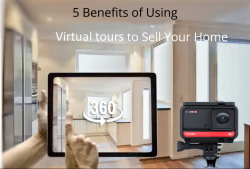 Virtual tours are an excellent feature in order to show our buyers around a property from the comfort of their own home. However, they are more than just a feature; they are actually a solution. So why are virtual tours such a revolutionary tool in helping us to sell properties in Bulgaria?
Buyers spend more than two thirds of their time online when searching for property, before they actually buy or rent. By providing them with more information than ever, they are better enabled to make an informed decision.

More Eyes
A single buyer may visit dozens of properties over the course of their search, and these frequent outings are both time-consuming and exhausting. Buyers may end up abruptly ending their search out of frustration—even if they aren't convinced of the home they buy. VR allows people to see the home without leaving the comfort of a real estate agent's office, giving a seller a chance to make an impression on more people. As more people view and connect to the property, it's likely to spark the interest a seller needs to surpass the property's market value.

Excellent Visuals
VR may seem like an expensive substitute for a video tour to some, but the idea is to help people feel as though they're already living in the home. It's more likely for a buyer to take an immediate sense of ownership when they can really picture themselves living somewhere. These guided VR visits let people step into a different world and experience a house on a new level. It forges a more personal bond than if buyers had to see the home with dozens of other open house attendees.

Less Hassle
A real estate agent who can give clients virtual tours is one who is proactive enough to answer buyer questions before they even have a chance to ask them. This can free up an agent's time while putting a buyer's mind at ease. It all translates to a more streamlined home sale for the seller. Considering just how fraught the escrow process can be, VR can be a great way to start the home sale process off right.

Less Time

Visiting numerous properties when seeking a new home is time-consuming and draining for everybody, and even more so for those with disabilities and special needs. An individual can now experience a prospective home without having to travel there, until they are convinced that it is a property that they are interested in. Virtual tours also help individuals to ascertain the accessibility of the property and to, therefore, decide whether it will meet their needs. Evidently this will also benefit the estate agent because the buyers' ability to view a property remotely, widens the scope of buyers that may take an interest in each property.
Overseas clients for example, may no longer find it necessary to take time-consuming journeys to visit properties that they have merely seen in photos. With virtual tours, they are now able to experience representations of the properties you are marketing in a more immersive, true-to-life way, without leaving their home.

Open House 24/7

The seller's house can also be tidy at any time of day online, and the buyer can see the property's interior and exterior in the daylight during a virtual tour, no matter what time of day it really is. They may not otherwise be able to do this easily, with work schedules and so on. Statistically 60% of viewings are done on evenings and weekends. Now buyers won't lose as much of their free time, or have to view the property in the dark when they'd need to come back in the daylight anyway.

Tuesday, Jan 26, 2021
» RENTALS
Commercial
€ 305
Location:
Veliko Tarnovo