Karlovo Mineral Baths – a healthy holiday in Bulgaria's Sredna Gora Mountain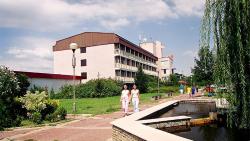 A luxury spa hotel in the resort town of Banya, better known as Karlovo Mineral Baths, is among the finalists for the Balkan Oscars 2020. This year the prestigious Balkan Awards of Tourism Industry 2020 will be presented on December 4th at an official ceremony in Sofia and will mark the most significant achievements in the sector.

Banya is located on the slopes of the Sredna Gora Mountain. With its record number of 76 healing mineral springs, the small town is unique for Europe and the world, the jury of the upcoming event believes.
In the past, the village was a leading producer of rose, lavender and peppermint oil, as well as wine. At the end of the 19thcentury, the first private villas appeared in Banya in the vicinity of the numerous mineral springs. In 1925, Bulgaria's Tsar Boris III stayed in the villa of the manufacturer Velizar Bagarov to treat his rheumatism. He was so pleased with the beneficial healing properties of the local waters that he decided to build his own royal villa here. Since then, Banya has gained fame as a mineral resort.
The mineral water of the town is extremely beneficial in the treatment of arthritis, as well as radiculitis, disc herniation, discopathy, etc. People come here because of the healthy local climate. Winters in this part of Bulgaria are mild and sunny, and spring starts a little earlier.
Karlovo Mineral Baths have wonderful treatment facilities, modern spas and hotels with many budget offers.
There are plenty of nature trails in the area that lead to picturesque places in Sredna Gora Mountain. Tourists can also visit the summer residence of Tsar Boris III with the botanical garden attached to it.
Competitors in this year's Balkan Awards of Tourism Industry will compete in various categories. The goal is to highlight the most significant achievements of companies that work hard in the most important area for the development of the Balkans.
Source:
bnr.bg
Monday, Nov 30, 2020
» RENTALS
House
€ 765
Location:
Veliko Tarnovo