Part of large glass treasure discovered near Bulgarian Black Sea coast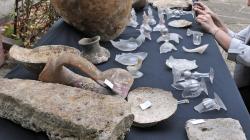 A part of the largest sunken glass treasure found in Bulgaria has been discovered in the sea near Burgas, BTA reported. Among the finds from the seabed in Chengene Bay near Cape Chiroza, there are dozens of pieces of glass objects of exceptional quality. Most of them are wine glasses.

Archaeologists suggest that they were made in the 17th century, probably somewhere in Italy. Scientists say that the glass treasure traveled by ship, which probably encountered an underwater reef and sank. According to researchers, if underwater research continued, the vessel itself could be located with more of its goods.

It is known that divers have found similar artifacts in this area for years.

The research work was conducted with the support of the Municipality of Burgas.
Source:
bnr.bg
Friday, Oct 02, 2020
» RENTALS
Apartment
€ 180
Location:
Veliko Tarnovo