Pandemic causes holidaymakers to seek alternative forms of tourism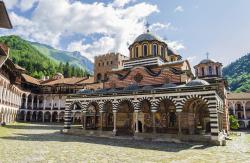 For many Bulgarian and foreign tourists the Covid-19 pandemic seems to have shattered the traditional idea of a summer vacation by the sea. Consequently the resorts along the Bulgarian Black Sea coastline now stand all but empty. However, interest has been growing in holiday villages and guest houses where there are no large gatherings of people. That is why many tourism experts have been saying that we ought to take advantage of this tendency and turn our attention to less widespread varieties of tourism.

One of these, as yet, insufficiently tapped "gold mines" is cultural tourism. It has the potential to provide practically year-round employment, and to diversify the supply in mass summer and winter tourism. Cultural tourism also attracts people with higher incomes and broader interests, who want more from their vacation.
With its wealth of over 40,000 monuments of culture from different historical periods, Bulgaria's prospects in this respect look good. Seven of these monuments – Boyana church, the Madara horseman, the Kazanluk tomb, the Ivanovo rock monasteries, the old Nessebar, Rila Monastery and the Sveshtari Thracian Tomb are on the UNESCO World Heritage List.

Not long ago the European Commission launched a new online platform for the safe reopening of Europe to tourists - Re-open EU. To help people plan their vacation it presents updated information about borders, transport, travel restrictions, health and safety measures, and other tips.
At the same time the EC launched a campaign in support of culture and cultural tourism "Europe's Culture – close to you". By presenting culture and history-based tourist products, it aims to promote the re-discovery of Europe's treasures, natural and cultural, thus helping revive local tourism and local economies.
To what an extent the pandemic and the initiatives undertaken are going to affect the development of cultural tourism in this country is something we are yet to find out. But as part of a longer-term European policy, under various operational programmes this country has been granted funds for the restoration and socialization of cultural tourism sites. Thanks to these funds new life has been breathed into the early Christian basilica - the Red Church near Perushtitsa, the ancient Serdica complex in Sofia, Trapezitsa historical reserve in Veliko Turnovo, the "cross-shaped military barracks" in Vidin, the Roman Villa Armira near Ivailovgrad, Kremikovtsi monastery near Sofia, Perperikon archaeological complex, and many others still waiting to be discovered by tourists from Bulgaria and abroad.

Source:
bnr.bg
Wednesday, Jul 22, 2020
» RENTALS
Industrial
€ 300
Location:
Veliko Tarnovo