Asparagus is back in Bulgarian lands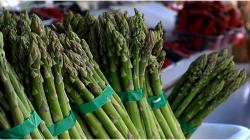 They call asparagus the "royal vegetable" because it was a special favourite with the Sun King. He was so fond of asparagus that he had his gardeners grow it all the year round. Ever since that time, asparagus has been a vegetable much favoured in Central and Western Europe. In our lands asparagus is still seen as something exotic, and few people know that at the turn of the 20th century Bulgaria was the biggest asparagus producer in Europe.

After the communist coup of 1944, asparagus was vilified as a "bourgeois" vegetable and disappeared from the Bulgarian market. In recent years, however it has reemerged, and is even being grown by Bulgarian farmers whose produce is of European standard.

Borislav Ivanov and his wife from the village of Zlatia near Dobrich in Northeastern Bulgaria are among the few farmers in the country bold enough to grow asparagus. About 5 years ago they returned from Germany where they worked in tourism and gastronomy.

"We decided to become farmers because we live in a tourist region, and the Black Sea is close by," Borislav says. "My grandfather used to be a gardener and we are following the tradition."

Borislav and his wife knew little about farming, that is why the family is learning on the fly. At the moment, on an area of less than half a hectare, they are growing practically every kind of vegetable traditional to Bulgaria, but also more exotic kinds like asparagus. Their aim is diversity and quality, not quantity:
"Everything we grow we manage to sell. We have seen demand growing with every passing year," Borislav goes on to say. "Besides asparagus we also grow Physalis (Cape gooseberry) and rhubarb. During the state of emergency over Covid-19 we didn't have any particular problems. In the time markets were closed we sold our produce online or delivered directly to customers. That was how we managed to sell everything we had produced. There was a lot of interest in the asparagus, in the salad, in all vegetables. We also grow saffron crocus in very small amounts. Our clients include one or two restaurants in the region. The rest are from the farmers' market where we sell our produce. We do all of the work with my wife. From time to time we call in an expert in vegetables to help, but most of the work we do ourselves."

It is Borislav's and his wife's intention to increase their asparagus production. They gather the vegetable from April until the end of June. Nutritionists say asparagus is rich in vitamins Â6, À and Ñ, as well as minerals, especially calcium, magnesium, zinc and iron. Asparagus is an indispensable source of tryptophan which improves sleep quality and helps boost mood. To make sure that it contains all of these valuable substances, the asparagus stems selected have to be firm, smooth, shiny, and with buds closed. The greener or whiter the stems, the more tender the asparagus, the bigger the health benefits.
Source:
bnr.bg
Wednesday, Jun 17, 2020
» RENTALS
Apartment
€ 205
Location:
Veliko Tarnovo