Welcome to Resen Folk & Bread Fest this weekend!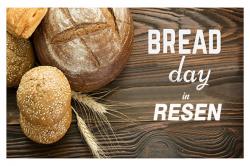 The Folk & Bread Festival is held every year in the village of Resen on July 7. The festive day will start at 10 am.
Several contests will be held within the framework of the event: "Nothing is more imoportant than the bread".
You`ll have an opportunity to listen to national Bulgarian songs, dances, customs and to taste a local fresh backed bread with a spice mix "colourful salt".
Thursday, Jul 04, 2019
» RENTALS
Apartment
€ 255
Location:
Veliko Tarnovo