Welcome to Samovodska street to celebrate Midsummer Day on June, 24!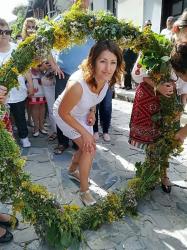 Every year on 24 June, Veliko Tarnovo celebrates Midsummer Day. The centre of the celebrations is the most popular street in Veliko Tarnovo - "Samovodska Charshia"
Traditionally, the holiday begins with a ritual of smoking the herbs collected in the early morning. For this purpose, a march will be organized, and dozens of enthusiasts will join this year. The morning walk starts from Tsar Asen Square and continues towards Garga Hill and the meadows near Arbanassi.
The gathered 77 types of herbs and plants will be braided into a huge wreath and hundreds of citizens and guests of the town will be able to pass through it for the summer holiday.
The feast continues with traditional Bulgarian dances and a presentation of different recipes for folk remedies and other elixirs.
Monday, Jun 24, 2019
» RENTALS
Shop / Retail
€ 87
Location:
Gorna Oryahovica