Avoid These 4 Mistakes When Searching For a New Home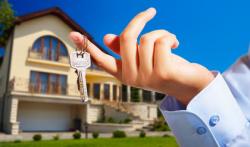 Of all the people who are looking to buy new properties this year, 32% are first-time home buyers, per National Association of REALTORS data. When it comes to buying a home, there are some lessons you really don't want to learn the hard way.

Here are a few mistakes to avoid if it's your first time going through the home buying process.

Not setting a realistic budget
Emphasis on realistic. Perhaps the most common mistake that home buyers make is not organizing their finances properly. Unfortunately, many first-time buyers go through the arduous process of saving for the downpayment and securing financing, but forget about all the other expenses that come with new homes. Buying a home is expensive, but it's also expensive to buy everything you're going to need to fill and maintain your home. When you're planning your budget, remember to think beyond the closing.

Only looking at large luxury real estate and not smaller new homes
Often, and this is especially true for luxury shoppers, home buyers look primarily at the square footage when evaluating homes for sale. If you're searching for luxury homes, remember that size isn't everything, and that square footage can often be exaggerated. Often, a smaller luxury home will fit your needs just as well as a larger estate.

"I think that's great if you've thought about the financial situation and your top priority is having a beautiful place to live that you can enjoy," said Dana Bull, a Boston realtor. "But I do think that millennials kind of do themselves a disservice if they don't understand how the numbers work. The biggest mistake isn't that people are buying starter castles, it's that they aren't exploring their options, and they're making kind of a knee-jerk reaction to based on perhaps what they know."

Not doing a walk-through or inspection
You should never make a final purchasing decision if you haven't done a walk-through yourself. You can look at a million pictures of a specific property and come to love it, but once you visit the home in person you could end up hating it. Likewise, working with a professional to have the home thoroughly inspected is also a must for home buyers. Though you should perform a walk-through of your own, you won't be able to identify all the problem areas that a professional will. Because housing supply is so short right now, many people are skipping inspections to make their bid more attractive. In the long run, this is always a mistake.

Being unrealistic about home improvements
Far too many people still move into homes with a lot of problems because they think they can easily fix any property issue. The truth is that these home renovation projects take a lot of time, energy, and money to address. If you're looking at a fixer upper, make sure you aren't inspecting with rose colored glasses. There's a reason most people prefer new homes for sale over lived-in properties.

As long as you're careful during your search for quality new homes and avoid making these four mistakes, you should be fine. If you're ready to check out new homes in Philadelphia and begin the next chapter of your life, contact West End Walk today.

Source:
rockwellcustom.com
Wednesday, May 08, 2019
» RENTALS
House Floor
€ 260
Location:
Veliko Tarnovo