Week of Marriage in Bulgaria encourages sustainable family life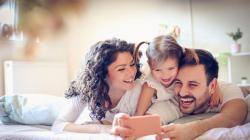 Marriage Week celebrates in Bulgaria, for the eighth year in a row, sound matrimony – "the union between a man and a woman, who have stepped into a mutual dedication to one another to the end of their days", the initiators of the idea have written. It is part of the International Marriage Week, marked February 7 through 14 in 26 countries across the world.

According to a recently conducted survey, marriage continues to be a cherished value for the greater part of Bulgarians. Among those polled, 53 percent voice the opinion that people in Bulgaria should live in marriage, while 37 percent voice the opposite opinion. Studies show that if we are looking for a lasting relationship, marriage is the best way to have one. According to Eurostat information, in 2013 Bulgaria ranks last for the number of marriages contracted per capita in all of Europe. In 2017 an improvement of several positions is registered. In the last six years in Bulgaria there is a 35% growth of the number of marriages, which is a factor to further encourage the organizers of the National Marriage Week. Data in this country show that cases of cohabitation out of wedlock last much less compared to those of married couples. Their average continuity is of 2-3 years, while in cases of married couples matrimony lasts around 16 years; perhaps because in the latter case people make a purposeful decision. "In cases of cohabitation the two partners sometimes enter their joint life with different intentions, claiming it is only temporary, yet it may take years. When a person has made a decision and voiced it, one is a lot more liable to keep to it. That decision is expressed through the signature, the witnesses and the celebration through which the couple wants to make their decision public", says Michaela Djorgova, coordinator of the team which organizes the event in Bulgaria.
"Marriage Week encourages people from all social spheres – family health experts, representatives of the church, NGOs and biasness circles, to do something to promote marriage. I am glad that many people responded and that there will be many related events in Sofia – romantic evenings and concerts aiming at reminding couples to invest in their marriage and prepare for better communication. One of our goals is to remind that marriage is a cause worth while; just like the time one spends with one's partner and the children. Often in our everyday life we make no efforts and the results are negative – divorces, single parents, economic dependence. Surveys made worldwide show that couples who continue to be in close relations and married, live longer, enjoy better health and as a whole feel more satisfied with life. It is an established fact that marriage increases the emotional, physical and financial quality of life. That is why this year the focus and challenge before married couples are targeted at deepening love and friendship between the spouses."

Marriage week has also a preventive point, Mihaela Djorgova further explains. On the one hand it aims at reminding married couples of what made them fall in love on the first place and devote to one another, and on the second – to realize what they need in order to maintain love in their marriage.

"For everyone who can receive our online bulletin, and every morning from February 7 through 14, we will be providing for married couples concrete steps for building up an atmosphere of closeness, higher trust, sharing and ways for avoiding conflicts. Marriage week is an occasion for spouses to step out of everyday routine, to put their marriage in the limelight and realize that the person next to them should not be taken for granted, but needs attention and understanding."
The initiators of the campaign – the family Richard and Maria Kane from Great Britain arrived to support the Marriage Week initiative in this country. During their meetings with Bulgarian audiences, the Kanes shared their own family story and what inspired them to work for the popularization of Marriage Week outside their country 23 years ago.
Source:
bnr.bg
Tuesday, Feb 12, 2019
» RENTALS
Apartment
€ 0
Location:
Veliko Tarnovo