International project acquaints young environmentalists with current trends in nature conservation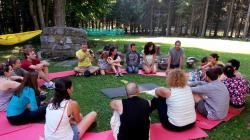 Future Environmentalists is a new international program which connects the environment protection policies and their practical application. The programme is designed for current students, recent graduates and researchers in the natural science field. It is held in partnership between The Association of Parks in Bulgaria, the Bulgarian Biodiversity Foundation, the Aristotle University of Thessaloniki (Greece) and the Czech University of Life Sciences in Prague. The program is based on the best European practices in environmental management and builds practical skills in environment protection. On the other hand, the participants at the training will have the opportunity to develop their communication skills, in order to present and defend successfully projects and causes related to sustainable development. Career forums and meetings with potential employers of the three countries are also part of the event.
We will invite different experts who are working in the field of nature conservation, Yordanka Dineva fromthe Bulgarian Biodiversity Foundation told Radio Bulgaria. The programme will be quite flexible. On one hand there will be unification of knowledge on key topics related to nature conservation. On the other hand, people will be able to make connections at different levels. The lack of communication between the institutions is the main problem in the management of natural resources. That is why we will invite representatives of the business, the institutions and non-governmental organizations who work in the field of nature conservation to attend the forum. Experts from Bulgaria, Greece and the Czech Republic will hold online trainings.
The training is free of charge and is financed under the European Union's Erasmus+ programme. Apart from the online sessions and interactive educational modules held in native language the students will be able to show what they learn at one-week practical course in Strandzha Nature Park. Those who completed successfully the two-year course will receive a personal skills certificate. Thus, they will have bigger opportunities to find jobs easier and make a career.
here are no boundaries when we speak of biodiversity conservation within the frameworks of a common territory such as the Balkans. That is why, the problems related to the preservation of the species are common problems, Iohannis Tsiripidis and Dimitriche Bakalidis from the Aristotle University of Thessaloniki (Greece) contend.
Source:
bnr.bg
Friday, Nov 23, 2018
» RENTALS
Shop / Retail
€ 255
Location:
Veliko Tarnovo