Intriguing 13-th century church with surviving frescos of Jesus Christ discovered in Veliko Tarnovo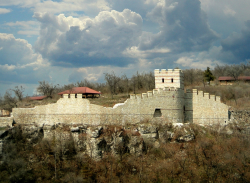 A previously unknown 13th century church has been discovered in the Trapesitsa Fortress, one of the citadels of medieval Tarnovgrad (today's Veliko Tarnovo), capital of the Second Bulgarian Empire (1185-1396/1422), with the temple featuring surviving frescoes of Jesus Christ.

The newly discovered church is the 23rd medieval church to have been found in the Trapesitsa Hill Fortress.

It is also the 5th previously unknown medieval church to have been found in Trapesitsa in the past 10 years.

The church is unique for a number of reasons: the surviving murals depict human figures, in addition to frescoes of Jesus Christ the Pantocrator (Pantokrator), i.e. Almighty, the first time such medieval frescoes have been found in the Trapesitsa Fortress, and the church itself is adjoined to the fortress wall of Trapesitsa, on the inside.
Togehter with the neighboring Tsarevets Hill Fortress, the party recently restored Trapesitsa Hill Fortress was one of the two main citadels of the medieval city of Tarnovgrad, the capital of the Second Bulgarian Empire (1185-1396/1422) for 208 years (until 1393 when it was conquered by the invading Ottoman Turks).

Of the two citadels of Tarvnograd, the Tsarevets Fortress has been researched more, was restored partly between 1930 and 1980, and presently ranks number one among Bulgaria's cultural tourism landmarks.

Most of the Trapesitsa Fortress, on the other hand, is yet to be researched by the archaeologists, and the archaeological restorations there have been small compared with those on the neighboring Tsarevets Hill.

In 2017, the archaeologists discovered another previously unknown church in the Trapesitsa Fortress in Veliko Tarnovo, church No. 22, where they also found a hidden hoard of bronze engolpion crosses and other Christian artifacts.
Source:
www.archaeologyinbulgaria.com
Monday, Oct 08, 2018
» RENTALS
Apartment
€ 230
Location:
Veliko Tarnovo