National Architectural Reserve Arbanasi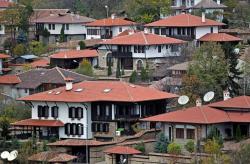 The earliest information about the existing of Arbanasi is from the end of XV c. In this time it was owned by high-ranking dignitaries in the Ottoman Empire. After 1541 the village was owned by the empire's grand vizir Rustem Pasha. Profiting by his authority, he ensured many privileges to the people of Arbanasi. They didn't pay any governmental taxes and duties. The legalized privileges made Arbanasi a very attractive place for living. There were citizens with Albanian, Bulgarian, Greek and Romanian origin. The common between them was the Eastern Orthodox religion. Very important role for the integration of the people with different origin played the Greek language and Greek writing.

The preconditions for its agitated economic affluence were the statute of the village, the tax concessions, the borders of the properties and the Christian citizens.

One of the main occupations of the population was the cattle. The big tradesmen bought and sold cattle. The main consumer of the meat provisions and leather products was the citizens of the capital of the Empire – Tsarigrad.

Very important role for the economic life had the commerce too. The principal contacts were with Transylvania, Italy, Poland, Hungary and Russia. The tradesmen in Arbanasi had special civil and legal privileges. The kept fiscal registers give us information about the crafts that were practiced in the village – coppersmith's, needlecraft, dyeing trade, shoemakers, slipper–maker, goldsmith's etc.

The education played a very significant role for the development of Arbanasi. There were schools at some of the local churches.

There were 1000 houses in XVII c, when the time of economic boom of the village was.

The architecture of the buildings was very characteristic – the houses were like fortresses, surrounded by high stone walls as the Konstantsalieva's House, the Kandilarova's House etc.

The church had a principal role in the life of the village. Since the middle of XVI c. to the end of XVIII c. 7 churches were built and decorated: The Nativity of Jesus Christ, Ss. Archangel Michael and Gabriel, St. Demetrius, St. George, St. Atanassius, St. Nikolas, The Holly Virgin. The village was very often visited by high-clergymen of the Eastern Orthodox Church.

The decline of the village was in 1798 when the village was attacked and burnt by Turkish marauders. Arbanasi was inhabited by settlers from the Balkan's towns later, but it never reached its previous glory.
Source:

http://veliko-tarnovo.net
Monday, Jan 08, 2018
» RENTALS
Shop / Retail
€ 306
Location:
Veliko Tarnovo