Bulgarian-Russian Tourist Forum Will be Held in April in Veliko Tarnovo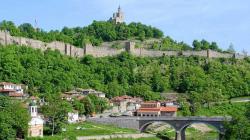 A Bulgarian-Russian regional tourist forum will be held in Veliko Tarnovo in April. This was made clear during the working visit to Moscow of Minister Nikolina Angelkova.

"The event will be another occasion for the representatives of the Russian business to touch on the cultural and historical wealth of our country," said Angelkova.

She talks in the Russian capital with Zarina Dogusova, head of the Federal Agency for Tourism, as well as with the Director General of the Association of Regions of Russia, Svetlana Anufrienko.

The topic of the conversation was also the possibility of signing a Memorandum of cooperation in the field of tourism. Minister Angelkova thanked Ms. Anufrienko for the participation of the Bulgarian-Russian business forum in the field of tourism, which was opened in Sofia by Prime Minister Boyko Borissov and Russian Prime Minister Dmitry Medvedev. The Minister expressed hope that the cooperation will continue in the future, which supports the development of tourism in Bulgaria and Russia.
Source:
www.novinite.com
Tuesday, Mar 12, 2019
» RENTALS
Office Space
€ 400
Location:
Veliko Tarnovo