Diplomats encourage young girls in Bulgaria to grow as change leaders in "Ambassador for a day"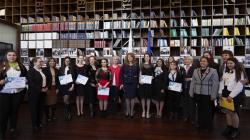 Yes, it is possible to make your dreams come true, all you have to do is try – this is the idea behind a thematic competition for school girls, organized by British Ambassador to Bulgaria Emma Hopkins, with the support of Vice-President Iliana Iotova.

Apathy is the most terrible diagnosis in our society, says Iliana Iotova, and the "Ambassador for a day" competition aims to instill a confidence in girls who are active and have not fallen prey to apathy, girls who have goals and dreams for their future.

"I want to encourage every girl aged 15 to 19 to take part because the competition is a way to change our point of view and a way to make our dreams come true," says 17-year old Blaga Popcheva, one of the winners of the first edition of the initiative in 2018.

The participants in the competition have to answer one question in no more than 250 words. And the question is: How would you use your power as an individual and your influence as an ambassador for a day to make a positive change in society? The aim is to encourage and empower girls from across Bulgaria to add their voices and perspectives to societal issues that affect us all.
Ambassador Hopkins shared her personal experience from last year's competition when she spent one day with a 17-year old girl from Vurshets and learnt a great deal about the difficulties a Bulgarian girl encounters in life, and added that it was not only the young that have much to learn from the female diplomatic corps.

Vice-President Iliana Iotova with her impressions of the "Ambassador for a day" initiative:

"What impressed me was the fresh eyes these girls bring to problems that are very serious – such as gender equality, the young and their search for a place in life, how they find a career, especially in smaller and remote parts of Bulgaria. Our campaign, together with Ambassador Emma Hopkins, will continue through the coming months. She is among the people who have devoted much of their work to protecting human rights, combating violence against women, human trafficking and organized crime – something that is different from the diplomatic sphere in which she has also been working very successfully. Bitterness, alienation and selfishness, that is what the 2008 economic crisis gave rise to, and nothing else. The problems of vulnerable groups, the isolation of Roma schools in Bulgaria are now taking centre stage. Fear for our own survival has taken the place of solidarity, empathy, belonging."

The conditions for participation in the "Ambassador for a day" competition are available on the website of the British embassy.
Source:
bnr.bg
Wednesday, Jan 09, 2019
» RENTALS
Apartment
€ 230
Location:
Veliko Tarnovo