More than 7,000 to take part in Surva festival in Pernik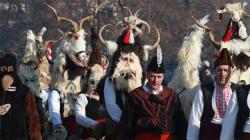 A record number of people will take part in the 28th edition of the Surva International masquerade games in Pernik, January 25-27.

121 groups of survakari and kukeri have applied so far, 17 of them from abroad. Interest in the festival has been growing, and the participants in this year's edition now number 7,400, which is 600 more than last year.

The festival programme includes competitive street processions, as well as a string of events connected with the ritual called Surva which is on the UNESCO Intangible Cultural Heritage list. There will also be culinary exhibitions, artistic workshops for children, concerts etc.
Source:
bnr.bg
Monday, Jan 07, 2019
» RENTALS
Apartment
€ 230
Location:
Veliko Tarnovo