Archaeologists find more than 800 coins, earrings and necklaces near Ahtopol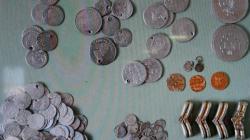 During excavations of the Agatopolis Medieval fortress near Ahtopol, archaeologists discovered the biggest treasure trove anywhere on the Black Sea coastline, consisting of many finds, says Ass. Prof. Andrey Aladzhov from the National Archaeological Institute.

The treasure was found in a special receptacle for storing wheat while surveying Ottoman houses. The items include head adornments, earrings, necklaces, as well as 854 silver and gold coins dated to the mid-18th century. According to Ass. Prof. Andrey Aladzhov the treasure was buried by brigands, or was hidden away by its owners when they were attacked – at the time of Ottoman domination treasures like this were spent, not stowed away by the wealthy.
Source:
bnr.bg
Saturday, Nov 03, 2018
» RENTALS
Office Space
€ 590
Location:
Veliko Tarnovo